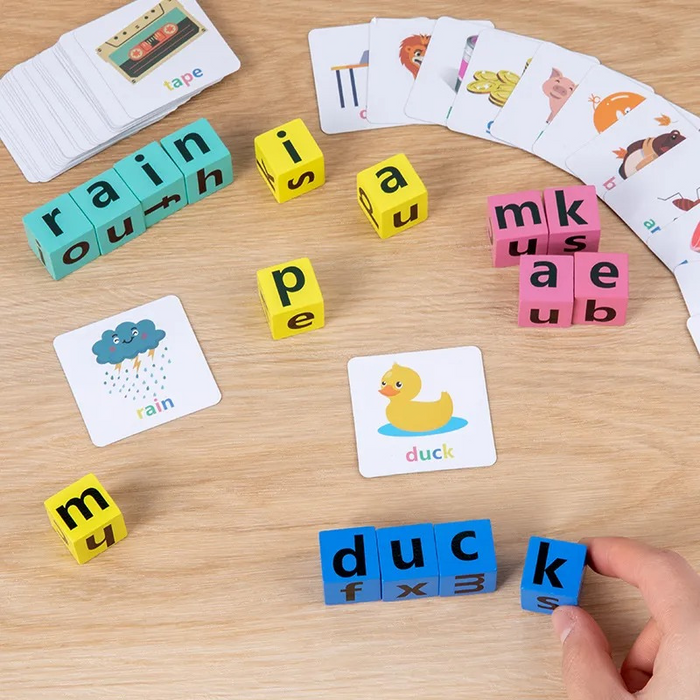 WordRace
Kids' Fast-Paced Letter Matching Game
Offer Ends
⏱️ Race against time in a spellbinding challenge
📚 Supercharges vocabulary and cognition
👨‍👩‍👧‍👦 Creates unforgettable, laugh-filled moments
🎄 Advent Sale - Save

£10.00
🎄 Advent Sale - Save

£10.00
Original price
£24.90
-
Original price
£24.90
WordRace is the captivating, edge-of-the-seat letter matching game that boosts your child's vocabulary, ignites their passion for learning, and promises unforgettable family moments—all while paving the path to becoming a little spelling champion.
Quick, Colorful, Competitive
Each player grabs their vibrant cubes, eyes glued to the word cards, fingers twitching. The clock's ticking, and the room's filled with eager anticipation. Who'll be the fastest to match? It's a colorful race to spell, laugh, and learn, all wrapped up in one mesmerizing game.
More Than Fun: Building Vocabulary and Confidence
While your child revels in the joy of speedy spelling, they're secretly sharpening their vocabulary and cognitive skills. Plus, it's a golden ticket to quality family time. Bond over challenges, cheer for each other, and create memories that'll warm your heart for years.
DETAILS
Interactive Spelling Game

Basic Words Mastery

Builds Reading & Spelling Confidence

40 Engaging Word Cards with 4 Letter Blocks

Big Cubes with Smooth, Rounded Corners

For Sizing Please See Product Pictures

* All orders are processed within 1-2 business days, our typical delivery frame 7-10 business days.  Depending on your location, you may receive your item much earlier.