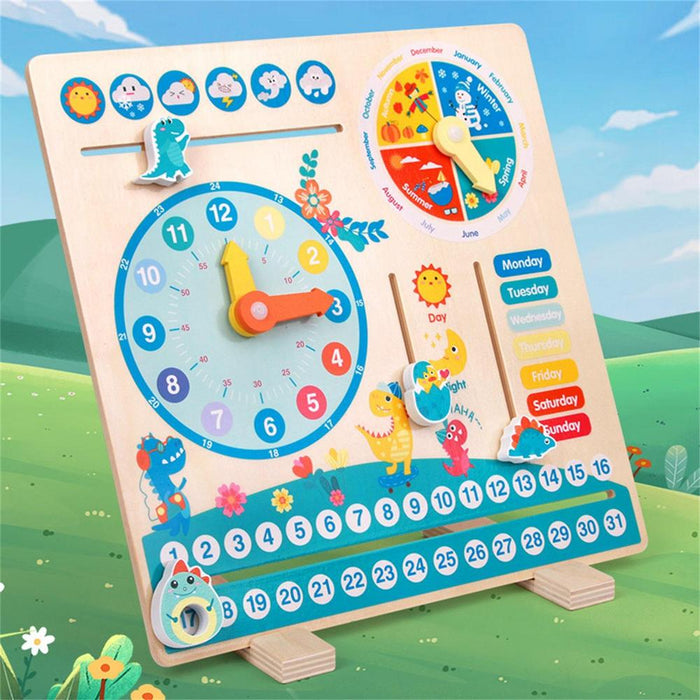 TimeGarden - Children's Multifaceted Learning Clock
Offer Ends
🎄 Advent Sale - Save

£10.00
🎄 Advent Sale - Save

£10.00
Original price
£24.90
-
Original price
£24.90
Ignite your child's curiosity and nurture their growth with TimeGarden, a one-of-a-kind children's multifaceted learning clock that makes understanding time, weather, and the calendar not just simple, but irresistibly fun - the perfect tool to foster independent learning, stimulate creativity, and instill a lifelong love for knowledge.
Fostering Creativity and Problem-Solving Skills
Picture your child, beaming with joy, as they uncover the mysteries of time. With TimeGarden, your little one will gain a strong understanding of hours and minutes, the days of the week, and months of the year. But TimeGarden goes beyond that, it brings in the excitement of learning about weather, seasons, and more, enhancing their cognitive and motor skills while making every moment count.

A Hands-on Adventure in Learning and Discovery
Imagine the pride on their faces as they share their newfound knowledge. TimeGarden's visually engaging wooden design offers a hands-on experience that will ignite their creativity. They'll love moving the clock's hands and spinning the season wheel, immersing themselves in a world of discovery while building critical thinking and problem-solving skills.

DETAILS
Interactive Learning and Fun Discovery

Perfect for 

Skills Development

Teaches Time Understanding, Seasons Exploration, Weather Education, Calendar Knowledge and much more

High-Quality and 

Sturdy Wood Design




Sizing: See Product Picture
* All orders are processed within 1-2 business days, our typical delivery frame 7-10 business days.  Depending on your location, you may receive your item much earlier.