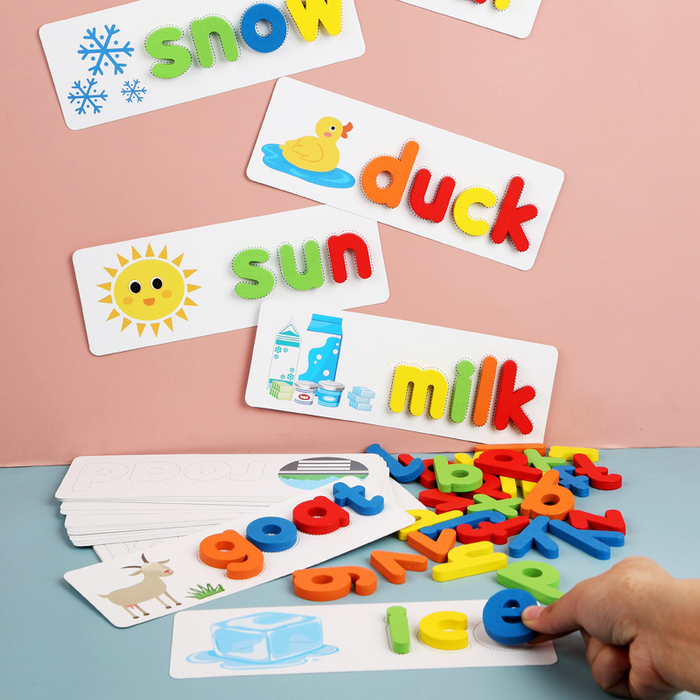 SpellMasters - Engaging Kids Spelling Game with Wooden Letters
Offer Ends
🎄 Advent Sale - Save

£10.00
🎄 Advent Sale - Save

£10.00
Original price
£24.90
-
Original price
£24.90
Dive into a world where every wooden letter ignites passion, every flashcard inspires creativity, and every spelled word celebrates your child's brilliance—SpellMasters not only fosters a love for language but also crafts memories that last a lifetime, all while empowering little learners master their alphabets with confidence and joy.

Unlock Magic with Every Letter

Every parent dreams of that special moment: seeing their child's face light up in pure, unfiltered joy. SpellMasters makes that dream a daily reality! Each wooden letter in this game is a stepping stone, leading your little one on a thrilling journey of discovery and confidence.

Tiny Hands, Big Discoveries

Who knew that learning could feel like such an adventure? With 26 vibrant flashcards, every spelling session becomes an exciting quest. As your kiddo pieces together each word, they're not just playing—they're crafting stories, exploring new worlds, and building a foundation for lifelong learning.

DETAILS
Adventurous Spelling Game

Joyful and Safe Learning

26 Engaging Flashcards with 52 Wooden Letters

Memory Maker with Skill Enhancement 

For sizing please see product picture
* All orders are processed within 1-2 business days, our typical delivery frame 7-10 business days.  Depending on your location, you may receive your item much earlier.