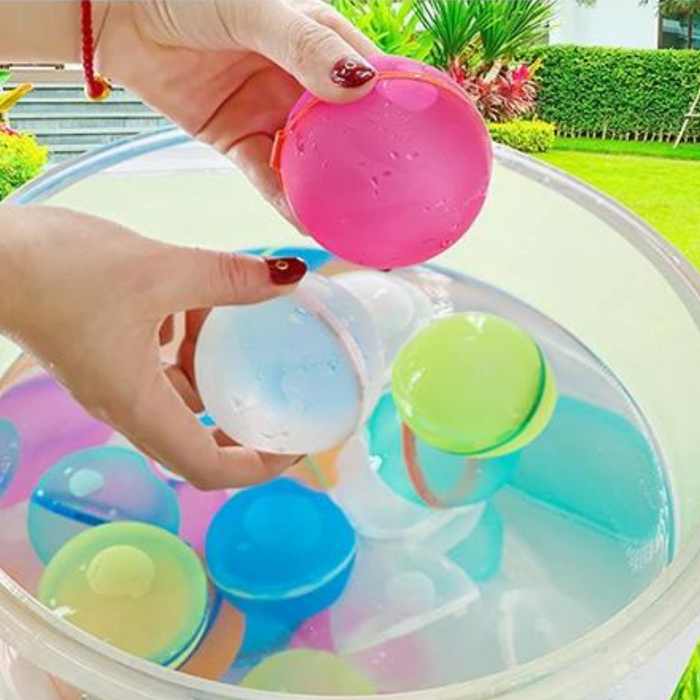 JoySplash - Reusable Water Balloons
Offer Ends
🎄 Advent Sale - Save up to

£10.00
🎄 Advent Sale - Save

£0.00
Original price
£24.90
-
Original price
£29.90
Transform every sunny day into a memorable water battle filled with laughter, excitement, and eco-friendly fun, as JoySplash - our Reusable Water Balloons - provides endless delight for your little ones, allowing them to engage in thrilling splash games while you relish the convenience of quick refill and the peace of mind knowing you're contributing to a cleaner planet.
Instant Fun, Zero Waste: Reload and Rejoice
Made for laughter-filled afternoons, these water balloons bring the thrill of a water fight without the waste. You won't believe how easy it is to 'reload' - just dunk them in water, snap the magnetic halves together, and you're back in the game! Imagine your kids' faces lighting up with JoySplash in their hands.
Time-Saving, Planet-Saving Fun



As parents, we know your time is precious. Forget the hassle of filling and tying countless water balloons. With JoySplash, you gain more time to share in your child's joy or enjoy a moment of peace while they play. It's a win-win for the whole family.
Traditional water balloons leave behind plastic debris, but our reusable design eliminates that problem. Every JoySplash water balloon is a step towards a cleaner, greener planet, teaching kids the importance of sustainability in a fun and interactive way.

DETAILS
Reusable Water Balloons




Eco-Friendly Kids Toys

Perfect for 

Summer Outdoor Games

Easy-Refill and Sustainable Water Balloons

Sets:  8 Pack, 12 Pack
* All orders are processed within 1-2 business days, our typical delivery frame 7-10 business days.  Depending on your location, you may receive your item much earlier.