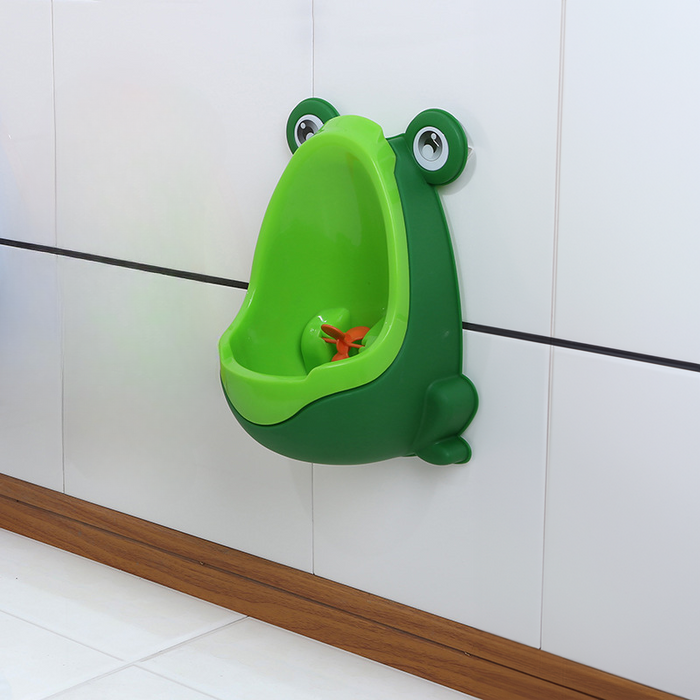 Froglet
Kid-Friendly Portable Urinal
Offer Ends
🐸 Turns potty training into an exciting leap of fun for your child.
🧼 Extra removable insert makes it hygienic and hassle-free to clean.
🚗 Portable design with super suction cup ensures a secure potty solution.
🎄 Advent Sale - Save

£10.00
🎄 Advent Sale - Save

£10.00
Original price
£24.90
-
Original price
£24.90
Transform the often-tearful potty training journey into a joy-filled adventure with Froglet, the irresistibly cute, easy-to-clean portable urinal that promises to make toilet training an engaging experience for your toddler while giving you the ultimate peace of mind.
From Messy Diapers to Easy Clean-Up: Simplify Potty Training Today
Why wrestle with messy diapers when Froglet can keep things neat and tidy? Our urinal comes with an easy-to-remove insert, making clean-up a breeze. Just snap it out, rinse it off, and you're good to go. And when it comes to installation, a quick suction cup action has it securely in place.

Keep Them Engaged with Every Spin

That little spinning wheel in the center? It's not just for show. It's a brilliant attention-grabber, ensuring your little one stays focused and entertained right where they should – making potty training fun and fuss-free.
DETAILS
Frog-Inspired Design

Easy-to-Remove Insert for Hassle-Free Clean-Ups

Strong Suction Base

Adjustable Height

No Overflows

Rotating Windmill

For sizing see product picture
* All orders are processed within 1-2 business days, our typical delivery frame 7-10 business days.  Depending on your location, you may receive your item much earlier.