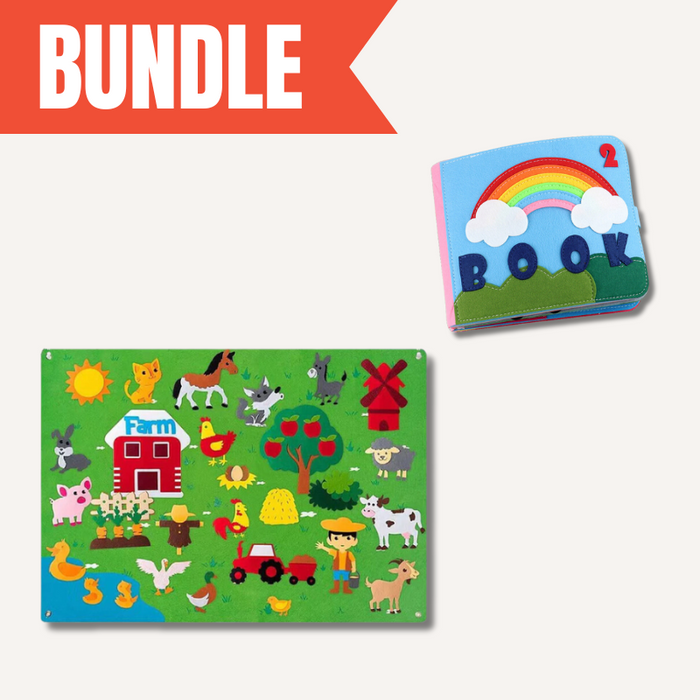 Felt Fascination Set 1
Unfolding Vibrant Stories and Endless Sensory Wonders Together
Offer Ends
🌈 Dive into interactive tales and boundless imaginative play.
📚 A duo that nurtures curiosity, creativity, and fine motor skills.
🎨 Montessori-inspired wonders: from vivid landscapes to captivating stories.
🎄 Advent Sale - Save

£34.90
🎄 Advent Sale - Save

£0.00
Original price
£69.80
-
Original price
£69.80
Elevate your child's imaginative journeys with our Felt Fascination Set. Merging the vastness of FeltWorlds with the intricate narratives of Feltastic, this bundle promises a hands-on exploration into creativity and sensory experiences. Dive deep into a combination that brings to life the essence of tactile stories and expansive imaginative play.
From Storybook Pages to Expansive Playgrounds
Magic begins with Feltastic, where every page is an invitation to a new world of discovery. With 16 captivating, interactive stories and activities, watch as your child's eyes light up with every piece they touch and move.
Seamlessly transitioning from the book, the FeltWorlds opens up an interactive playground, offering limitless landscapes and sceneries, waiting to be molded and explored.
Crafting Curiosity, Creativity, and Confidence
Every touch, every story, every landscape they create fosters growth. This thoughtfully curated set not only entertains but nurtures their cognitive abilities, fine motor skills, and imagination. Rooted in Montessori principles, it ignites a passion for self-driven learning, ensuring your child is set on a path of curiosity, creativity, and confidence.
 DETAILS
Montessori-inspired felt experiences in book and board form

Vibrant design, interactive stories, and endless creative possibilities

Crafted with durable, high-quality materials for long-lasting play

For specific product details, please refer to individual product descriptions
For sizing please see product picture
* All orders are processed within 1-2 business days, our typical delivery frame 7-10 business days. Depending on your location, you may receive your item much earlier.