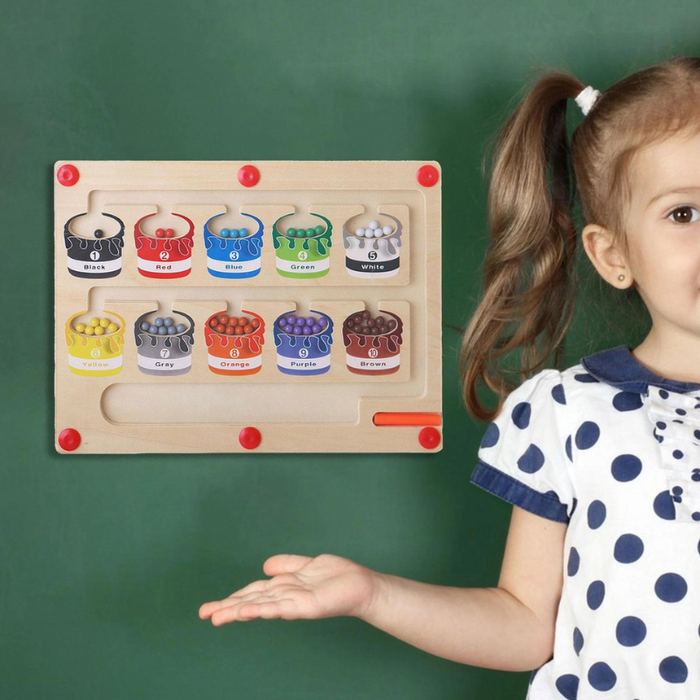 ColorMaze - Engaging Montessori Magnetic Labyrinth Toy
Offer Ends
🎄 Advent Sale - Save

£10.00
🎄 Advent Sale - Save

£10.00
Original price
£24.90
-
Original price
£24.90
Delight your little explorer's senses and ignite their problem-solving spirit with our ColorMaze - an engaging Montessori magnetic labyrinth toy that not only boosts color recognition and hand-eye coordination but also kindles creativity, patience, and the joy of achievement in every child, ensuring fun-filled learning that every parent will love to witness - a unique, unforgettable adventure in every playtime!
A Game of Colors, Confidence, and Coordination
Imagine the thrill they'll feel sorting the vibrant balls into their proper places. And that delightful "Aha!" moment when they master the route. Each win with ColorMaze bolsters their confidence, and what's more beautiful than seeing your child believe in their abilities? Plus, it's not just about fun; it's about learning too. The path to mastering colors and honing hand-eye coordination begins here.

The Perfect Partner for Cognitive and Motor Development
Parents love ColorMaze, and for good reason! It's the perfect playmate that ensures children are learning even as they enjoy their playtime. With this magnetic labyrinth toy, you're giving your child an engaging play experience, while also developing their cognitive and motor skills. 

DETAILS
Montessori-inspired Toy

Magnetic Labyrinth Game

Fine Motor Skills Enhancer

Educational and Fun Playtime Solution

Boosts Problem-Solving Abilities

For sizing, please see product picture

* All orders are processed within 1-2 business days, our typical delivery frame 7-10 business days.  Depending on your location, you may receive your item much earlier.