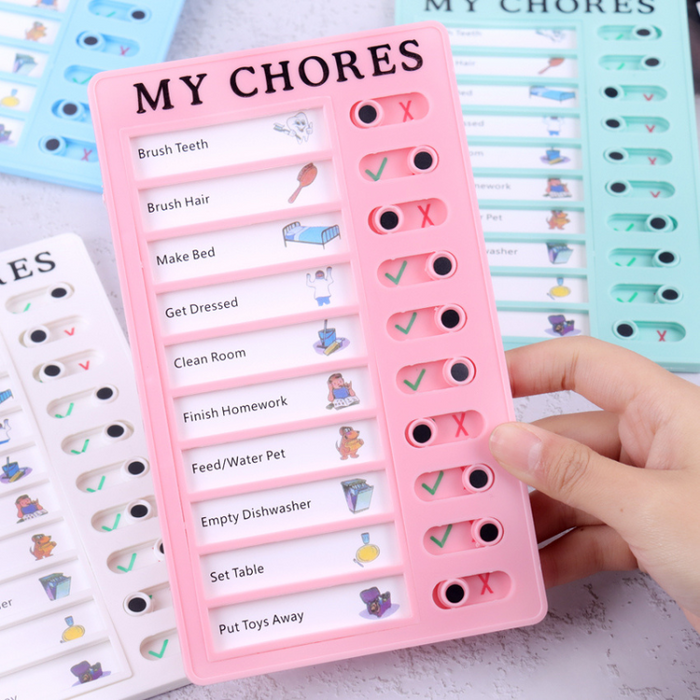 ChildChart - Engaging Task Organizer for Kids
Offer Ends
🎄 Advent Sale - Save

£10.00
🎄 Advent Sale - Save

£0.00
Original price
£24.90
-
Original price
£24.90
Unveiling ChildChart, a groundbreaking task organizer for kids that effortlessly turns daily chores into an engaging journey, fostering responsibility, confidence, and time management skills in your child while providing you with a stress-free, organized routine that's easy to manage.
Transforming Daily Tasks into Magical Missions
We get it - keeping track of daily tasks can feel like a chore in itself. But with ChildChart, you're turning the mundane into magical. Watch as your child delights in sliding that marker from task to task. Witness the birth of a sense of accomplishment, growing each time a job is well done. It's time to wave goodbye to constant reminders and nagging.

Embrace Peace of Mind and Organized Serenity
ChildChart is not only about the kids, though. It's here to bring you peace of mind and a sigh of relief. No more scrambling to remember if the dog got fed, or if the homework got done. It's all there, neatly organized on ChildChart, freeing up your time and reducing your stress.

DETAILS
Boosts Confidence and Encourages Responsibility

Time Management Tool with Fun Interaction

Inspires Achievement

Different Sets Available
Colors: Blue, Pink and White

For Sizing Please See Product Picture
* All orders are processed within 1-2 business days, our typical delivery frame 7-10 business days.  Depending on your location, you may receive your item much earlier.