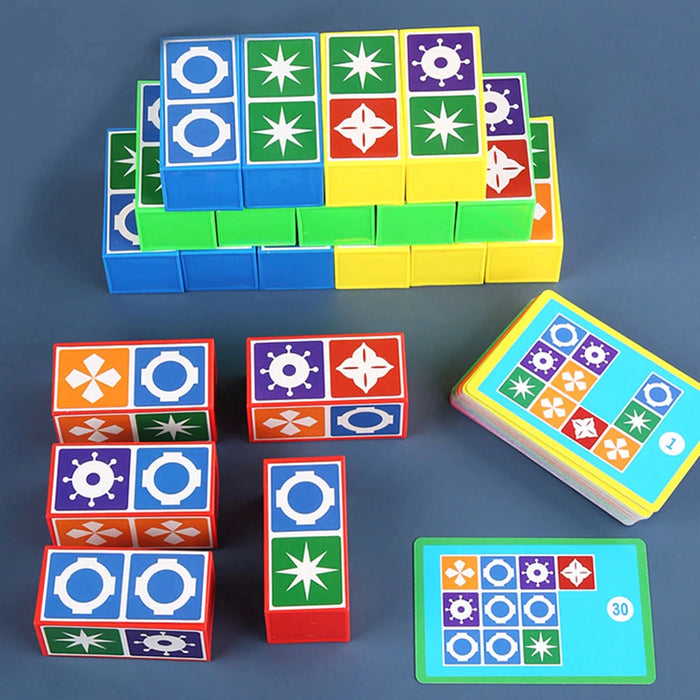 Block Match
🛍️ Cyber Week Sale - Save

£0.00
🛍️ Cyber Week Sale - Save

£-19.90
Original price
£19.90
-
Original price
£19.90
Looking for a Fun and Educational Activity for Your Kids? This colorful puzzle game is perfect for children of all ages, providing hours of entertainment while also helping to develop skills like problem-solving, color recognition, strategic thinking and much more!
Enhance Your Child's Cognitive Abilities
Block Match is a fast-paced and exciting puzzle game that will keep your children on the edge of their seats. With its simple gameplay and vibrant graphics, it's a game that is easy to learn but difficult to master.

Not only is it a great way to pass the time, it's perfect for helping your kids develop their cognitive skills. The game requires your loved ones to analyze patterns, identify shapes and colors, and plan ahead, all while under the pressure of the clock.

Easy-to-Understand and Fun for the Whole Family
Step 1: Divide the blocks among the players. All players get 10 blocks each.
Step 2: Draw a card from the face-down stack. As soon as you lay it on the table, the game starts!
Step 3: The player who first accurately reproduces the pattern shown on the card wins the round. You play the game until all the cards in the game have been used up. The person who collects the most cards wins the game!
DETAILS
1 Block Match Sets include: 20x blocks and 60x playing cards:
* All orders are processed within 1-2 business days, our typical delivery frame 7-10 business days.  Depending on your location, you may receive your item much earlier.