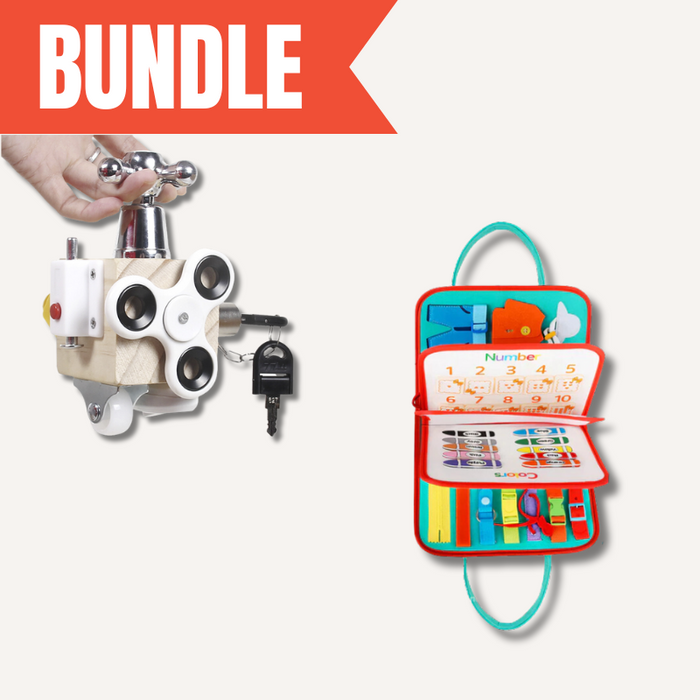 Montessori Mastery Set 2
The Ultimate Play Duo for Sensory Explorations and Skill Building
Offer Ends
🌟 Perfectly Paired: MagicTouch for sensory delight and WonderCube for multi-faceted learning.
🎨 Joyful Growth that sparks curiosity, creativity, and cognitive development.
🖐 Empowering Montessori roots for self-led discovery and skill-building in every touch and turn.
🎄 Advent Sale - Save

£24.95
🎄 Advent Sale - Save

£24.95
Original price
£49.85
-
Original price
£49.85
An unparalleled playtime experience that seamlessly combines the sensory delights of MagicTouch with the engaging challenges of the WonderCube. Crafted for little explorers, this bundle brings the enchanting world of Montessori learning to your child's fingertips.
Sensory Delight On-the-Go

Dive into MagicTouch and let your child immerse themselves in a realm of sensory exploration. Designed for tactile discovery, its compact form allows easy play and storage. Perfect for on-the-go adventures, it promises countless hours of engagement, allowing kids to touch, feel, and imagine.

Twists, Turns, and Lifelong Learning

Now, transition that wonder into the WonderCube. Every twist and turn brings about a new activity. Watch as your child's face lights up with every button press, switch toggle, and sensory experience. This Montessori busy cube not only delights but also strengthens foundational skills, fostering independence and setting the stage for lifelong learning.

DETAILS
Montessori-inspired Playset: MagicTouch Sensory Board & WonderCube Busy Cube




Promotes sensory exploration, cognitive skills, and creativity

Interactive elements designed for developmental advancement

For sizing please see product picture
For specific product details, please refer to individual product descriptions
* All orders are processed within 1-2 business days, our typical delivery frame 7-10 business days.  Depending on your location, you may receive your item much earlier.