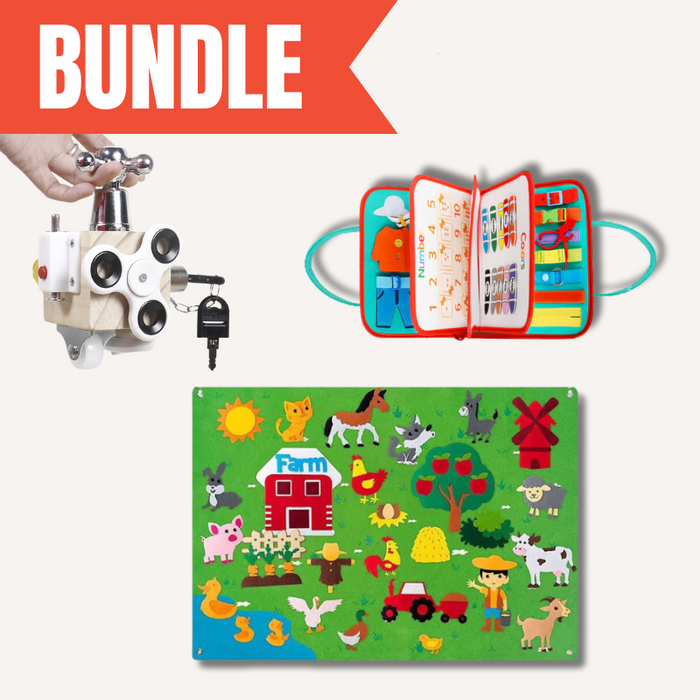 The Ultimate Montessori Bundle
Complete Sensory Adventure: From Felt Worlds to Tactile Exploration
Offer Ends
🚀 Journey through magical stories, tactile surprises, and playful worlds.
🎨 Fostering independent play, imagination, and skill-building in one set.
🌟 An all-in-one solution for hands-on Montessori mastery and endless discovery.
🎄 Advent Sale - Save

£44.85
🎄 Advent Sale - Save

£0.00
Original price
£79.75
-
Original price
£79.75
Dive into a comprehensive world of learning with The Ultimate Montessori Bundle. Encompassing the best of sensory discovery, imaginative play, and Montessori teachings, this package ensures your child receives the most enriching and encompassing learning experience available.
Journey Through Immersive Play
MagicTouch becomes the starting point of their voyage, seamlessly complemented by the vast landscapes of FeltWorlds - an interactive playground for imagination. Together, they offer non-stop interactive play, perfect for both indoors and on-the-go adventures.

Empowering Twists of Discovery
Let the exploration continue with WonderCube. With every twist, press, or switch, your child encounters a plethora of activities. The Montessori principles shine through, empowering them with confidence and an appetite for self-driven learning.

DETAILS
Ultimate combination for sensory and Montessori learning

Designed for endless interactive play and skill-building

Interactive learning elements for development

Durable materials, ensuring longevity and safety

For sizing please see product picture
For specific product details, please refer to individual product descriptions
TIP: Iron FeltWorlds with an iron on arrival to remove wrinkles.
* All orders are processed within 1-2 business days, our typical delivery frame 7-10 business days.  Depending on your location, you may receive your item much earlier.