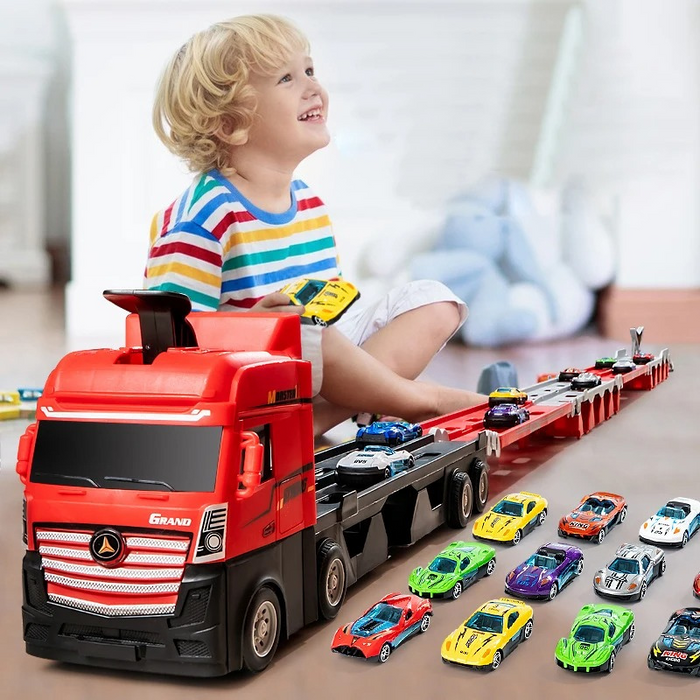 TurboTruck
Ultimate Kids' Car Hauler & Ejection Race Set
Offer Ends
🚗 Multi-functional play with hauler and race track
🏆 Comes with eight cars for instant racing fun
🌍 Compact and portable for on-the-go adventures
🎄 Advent Sale - Save

£15.00
🎄 Advent Sale - Save

£15.00
Original price
£39.90
-
Original price
£39.90
Experience the thrill of racing right out of the box with TurboTruck - where every adventure-packed hauler opens up to reveal an exciting ejection race set, sparking endless joy, fierce competitions, and heart-racing moments in every child's playtime.
Unleash the Ultimate Playtime

With TurboTruck, kids can set up nail-biting races anytime, anywhere. Tucked inside the truck, eight ready-to-race cars await their moment of glory. The suspense of which racer will triumph adds an exhilarating twist to playtime. No more waiting for a turn; every race is a head-to-head battle of speed and skill!

Perfect for Little Hands & Big Dreams
Easy to use, and designed for maximum joy, this toy is every young racer's dream come true. It's durable, kid-friendly, and promises hours of imaginative play. Plus, it's compact enough to take on the go, from grandma's house to playdates.
DETAILS
Transformative Truck Play

Interactive Play Experience

Enhances Playroom Organization

8 Random Cars Included

Compact, Portable Set

For Size Please See Product Description

* All orders are processed within 1-2 business days, our typical delivery frame 7-10 business days.  Depending on your location, you may receive your item much earlier.