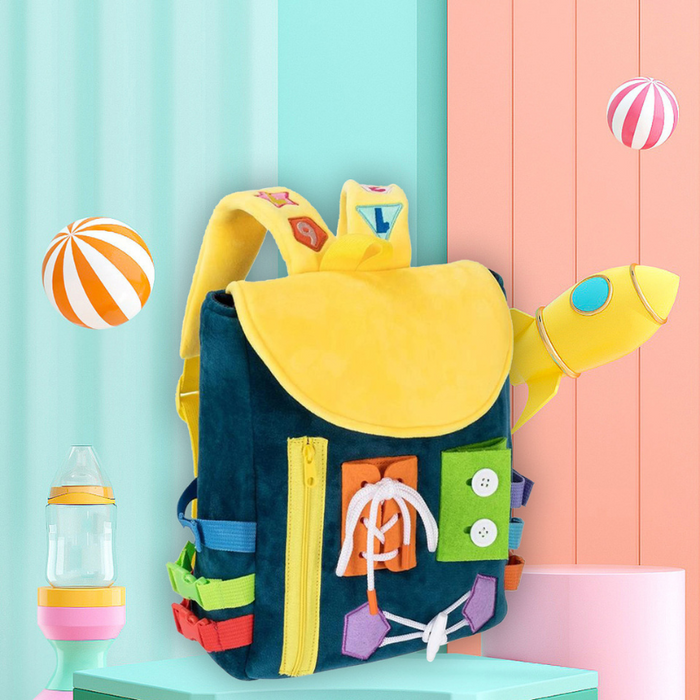 SkillPack
Montessori-Inspired Kid's Backpack for Skill Development
Offer Ends
👐 Montessori Magic: Hands-on learning elements.
💪 Little Champions: Builds confidence & independence.
🎒 All Essentials Fit: Ample storage space.
Sold out
Original price
£24.90
-
Original price
£24.90
SkillPack, our Montessori-inspired backpack, is not just an accessory but a bridge to a world where every zip, buckle, and tie becomes a joyful step in your child's journey of skill development, independence, and self-confidence, ensuring they're not just carrying books, but also carrying forward essential life lessons.


Built for Play, Designed for Growth and Exploration
Imagine the delight on your little one's face as they discover the joy of mastering a buckle, the thrill of tying a perfect knot, or the satisfaction of zipping it up all by themselves. These aren't just simple actions; they're milestones in your child's journey to self-confidence and independence. With every latch, loop, and lace, they're not only prepping for school but for life.

Discover, Play, Store: The All-in-One Wonder
But, the SkillPack isn't all work and no play! Amidst the learning, there's a world of fun. Its vibrant design ensures they wear it with pride, and the interactive Montessori elements keep them entertained on the go. Plus, with the same space as a regular backpack, there's ample room for all their school essentials. It's learning, play, style, and practicality, all packed into one.

DETAILS
Montessori Learning Elements




Hands-On Skill Development

Adjustable Straps for Comfy Wear

Durable & Kid-Friendly Design

Easy-to-Use Zips

For sizing please see product picture
* All orders are processed within 1-2 business days, our typical delivery frame 7-10 business days.  Depending on your location, you may receive your item much earlier.