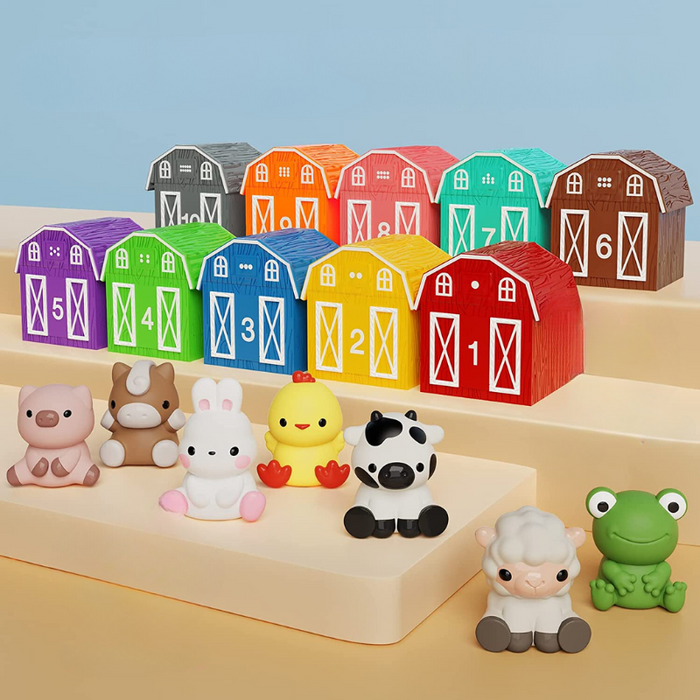 KidFarm - Montessori Inspired Farm Animal Learning Toys
Offer Ends
🎄 Advent Sale - Save up to

£10.00
🎄 Advent Sale - Save

£0.00
Original price
£24.90
-
Original price
£29.90
KidFarm, our delightful collection of Montessori-inspired farm animal learning toys, is a toddler's dream come true, turning playtime into an exciting educational journey that nurtures their curiosity, boosts their cognitive development, enhances fine motor skills, and fills their hearts with the unforgettable joy of discovering the world around them - all while creating cherished memories and building a solid foundation for their future learning adventures.
Turning Giggles into Growth and Mastery
KidFarm isn't just about fun, though. It's a journey of discovery. Each farm animal toy helps them unlock new levels of cognition. Your tot will master counting, matching, and sorting, laying the groundwork for math and logic skills. And as they giggle with delight, they'll be developing fine motor skills, too!

Safety Meets Joy - Cherishing First 'Moo'ments
But there's more. Every KidFarm toy is crafted with care, keeping the safety and happiness of your little ones at the forefront. The soft-edged, vibrant farm animal figures are easy to grip and guaranteed to stand the test of toddler play.

Choosing KidFarm means choosing cherished memories. Imagine the joy of your child's first connection between the 'moo' sound and the adorable cow in their playset.
DETAILS
Montessori-Inspired

Enhances Cognition and Boosts Motor Skills

Soft-Silicone Animals for 

Easy Gripping

Our Best 

Educational Exploration Toy

Set: 5 Animal Set; 10 Animal Set
* All orders are processed within 1-2 business days, our typical delivery frame 7-10 business days.  Depending on your location, you may receive your item much earlier.